Pulse Electronics, a global leader in Ethernet Magnetics, has released their latest 1Gigabit magnetic module designs which support Power over Ethernet (PoE) for outdoor and industrial environments. Pulse has been integral in the development of PoE since the first standard, IEEE802.af, was released in 2003 and enabled 15W over two pair and has continued with innovative magnetic designs through the deployment of the 40W IEEE02.3at and 70W IEEE802.3bt standards. The new HX5164NL and HX6164NL exceed the performance parameters of the later two internationally accepted standards which support interoperability between PoE equipment manufacturers. When used in accordance with latest standards over CAT5 or higher grade cable the HX5164NL and HX6164NL are capable of delivering 40W & 70W, respectively. The use of a taller package allows for lower resistance coils which reduces I2R conduction losses and leads to superior temperature performance. The HX5164NL and HX6164NL share the same small form factor package but offer different PCB layouts for ease of routing.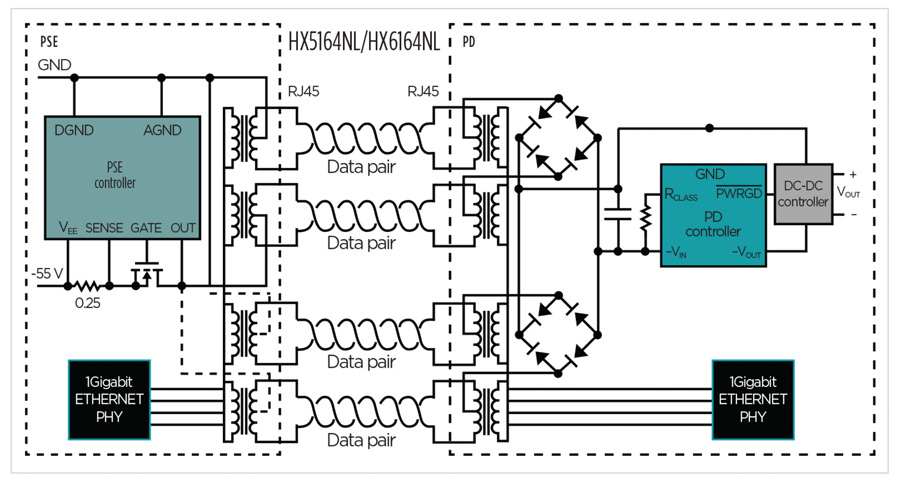 With an operating temperature range of -40°C to +85°C these parts are suitable for a wide-variety of applications including wireless access points, building control, HVAC and lighting, remote sensing, digital video and CCTV cameras.
The parts are compatible with all major PHY vendors and the high volume automated production allows for superior reliability and repeatability while ensuring cost competitiveness.
"Pulse is excited to introduce these two new catalog designs to support the growing demand for outdoor and industrial powered devices – especially with high power handling in a small footprint PoE transformers – ideal for use with RJ45 and non-RJ45 weatherproof connectors…."
– Robert Frost, Product Marketing Manager, Pulse Electronics
The datasheet for HX5164NL and HX6164NL details all relevant parameters such as dielectric strength, insertion loss, return loss and common mode reduction ratio (CMRR) and are available in tray (NL) or tape and reel (NLT) packaging and more details are available from the 1Gigabit Magnetic Module flyer. For more information on Pulse's Ethernet products use our product finder to search our discrete and integrated PulseJack products.