Meet Our New Tri-Band Antenna For All-Band Radios
Ideal for public safety applications, this tough, economical, high-performance whip antenna is designed to pair with Motorola's  APX8500™ and Harris Unity XG™ all-band radios, while offering better flexibility and ruggedness than other comparable antennas on the market.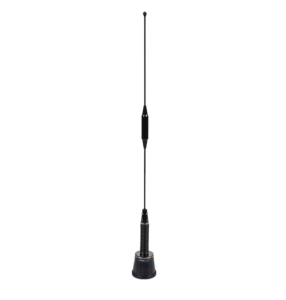 PulseLarsen Part Number: NMO150/450/758
Each and every day, first responders and law enforcement teams must be ready to take on an unimaginable range of emergencies, from house fires to traffic accidents to criminal activity. Confronting these issues quickly and efficiently, while keeping our community safe, requires extremely clear and reliable communication with great reach and coverage. Often that communication requires radio interoperability with those radios of different government agencies.  An emerging trend to achieve that interoperability is to use communication provided by all-band radios that may include VHF, UHF and 700/800 MHz radio bands.
To help our police officers and fire departments communicate clearly and consistently, PulseLarsen has developed a tri-band antenna that is rugged, reliable, and easy to install. Perfect for use with all-band radios, as well as for first responder budgets, this high-value whip is designed with all of the needs and concerns of two-way radio utilizers in mind.  
Tri-Band Antenna Features & Benefits
Made of black stainless steel, our tri-band antenna is above all else compact and rugged. At just 16.5 inches (452.5 mm) long and weighing just over 7 ounces (205 grams), it is much less likely to catch on branches or other objects than comparable products. In addition, a spring located just above the antenna's base make it extremely flexible, and therefore extremely resistant to collisions and impacts.
Adding to its ruggedness is its ability to withstand rain, wind, snow, water, and dust. It holds an IP67 rating and can also withstand up to 150-mile-an-hour winds. It also has a -40 degrees Celsius to 85 degrees Celsius operating temperature.
This antenna also utilizes an NMO mount, which makes it easily swappable with other models that also use the NMO mount, and easy to install on vehicles that don't yet have an antenna mount for its radio.
Other features:
Omnidirectional
RoHS compliant
Vertical polarization
0/5/4 dBi gain
100 watt power withstanding
The Tri-Band Mobile is pre-tuned to cover:
VHF: 150 – 174 MHz
UHF: 430 – 520 MHz
7/800: 750 – 870 MHz
Associated Products & Accessories
Installing the tri-band mobile antenna is easy. Not only are the antennas swappable with any antenna using an NMO mount, but the product can be easily self-installed in just a few steps and with a few accessories (also available through PulseLarsen).
NMOKHFUD. This is an NMO cable assembly with dual shield RG58 coax and NMO high frequency mount.
QMACRIMP1. This is a QMA Crimp connector for use with NMO Cable assembly (soon to be released).
NMOKHFUDQMA. This is a two-piece kit of the first two items – the NMOKHFUD cable assembly plus the QMACRIMP1 crimp connector (soon to be released).
Learn More About Our Tri-Band Whip
Could your fleet of vehicles benefit from our tri-band mobile whip antenna? To learn more about this product, or to simply learn more about how we can fulfill your antenna needs, we encourage you to speak to our team today. Reach out through our our quick contact form or call us at 1-800-ANTENNA (+1-800-268-3662) to ask a question, request more information, or request a catalogue.