Pulse is excited to announce the launch of the new PG1895NL of EFD20 flyback transformer specifically designed for SiC or IGBT devices switching. The PG1895NL is a 6W flyback which provides five groups of output with footprint size 29.4mmx25.5mmx12mmMax, and the hipot could reach 2400Vrms isolation voltage Max.
One typical application is that PG1895NL could be used in three phases inverter driver system. Three groups of 23V can be used to drive the high-side IGBT/Mosfet and one 23V is used to drive the low-side IGBT/Mosfet. Three groups IGBT/Mosfet are controlled by one transformer, saving the space and cost. See the application circuit below.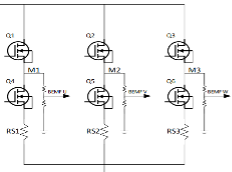 "We have been delighted with the market interested in the PG1895NL and the range of applications into which they have been designed. This smaller product offering five outputs to control multi- group Mosfet or IGBT, 23V output can be divided into +18V and -5V to turn on or turn off IGBT. Compared to existing products on the market, it would occupy a smaller footprint size."
Kevin Li, Product Marketing, Power PBU, Pulse Electronics
The winding of the round wire coil is fully automated, making this product well suited for high-performance, high reliability applications in the data communications, industrial and automotive markets which also require a price competitive solution. To view, compare and download data sheets for our Isolation Transformer Series utilize our Product Finder and simply enter the prefix of the part number. To inquire about lead times, competitive pricing, samples and more, just contact us or use our quote form accessed using the button below.